JOTA 2009

The Jamboree On The Air (JOTA) is an international radio event held every year on the third full weekend of October. The Boy Scouts of America offer an opportunity to earn a merit badge for radio and the JOTA fits the bill. Allowing the youth to experience our great hobby first hand with the guidance of experienced hams.

More on JOTA here: Special thanks to Phil Ashler N4IPH for the following photography. (funny - he's not in any of these photos.)

| | |
| --- | --- |
| Entrance to St. George Island state park. Beach is over the dunes on the right side. | Aerial view of the St. George Island. Dog island (smaller) is to the right. Click here for Google map: |
Our group represented hams from the Tallahassee (Florida) Amateur Radio Society. We set up JOTA stations at a boy scout reserve site at St. George Island state park. A twelve mile long barrier island a couple of miles off shore from the Apalachicola area in the Gulf of Mexico in north Florida. Access is by bridge, half of the island is inhabited and crowded with half-a-million dollar stilt homes and the other half is left untouched with pristine white sands and sea oats on the ocean side and a few pockets of pines and scrub brush on the bay side. Since I got my license I've always dreamed of having a small taste of a "DX-pedition" adventure and operating from both a beach and an island.

I'm a Cub Scout Bear leader as well as a ham which made this an extra special event for me.
I anticipated the day three months in advance but didn't start worrying about the odds and ends until a night or two before. Me (Mike K4ICY), along with my son Josh (a scout) and a friend, Micah KJ4AZW met at a Publix parking lot as early as 5 am, it was still night and a cold front had moved in the day before after month of sweltering 90-100 degree temps. He was with a friend of his in her truck and we set out south of town down hwy 319 then to 98 on a 2.5 hour trip that took us 70 miles to the island. Half of the way along a scenic beach side vista.
We QSO'd on the 146.520 national simplex the whole way using only a few watts to pass the time. From Wakula to Sopchoppy, Carabell, Steinhatchee, the sun was rising but hidden behind a cloud mass. Dog island and St. Geroge island were constantly peeking out in the distance. Paul Eakin KJ4G the North Florida ARRL section manager came in on the freq and gave us the code to get into the park early.

Once we arrived after missing the one of only two side roads in the park and getting a couple of miles out of the way, we arrived to the intoxicating smell of camp fire smoke and we met everyone else; Paul Eakin KJ4G, Donna Barker WQ4M, James Ryder KG4YZM, Phil Ashler N4IPH, Norm Scholer K4GFD and others.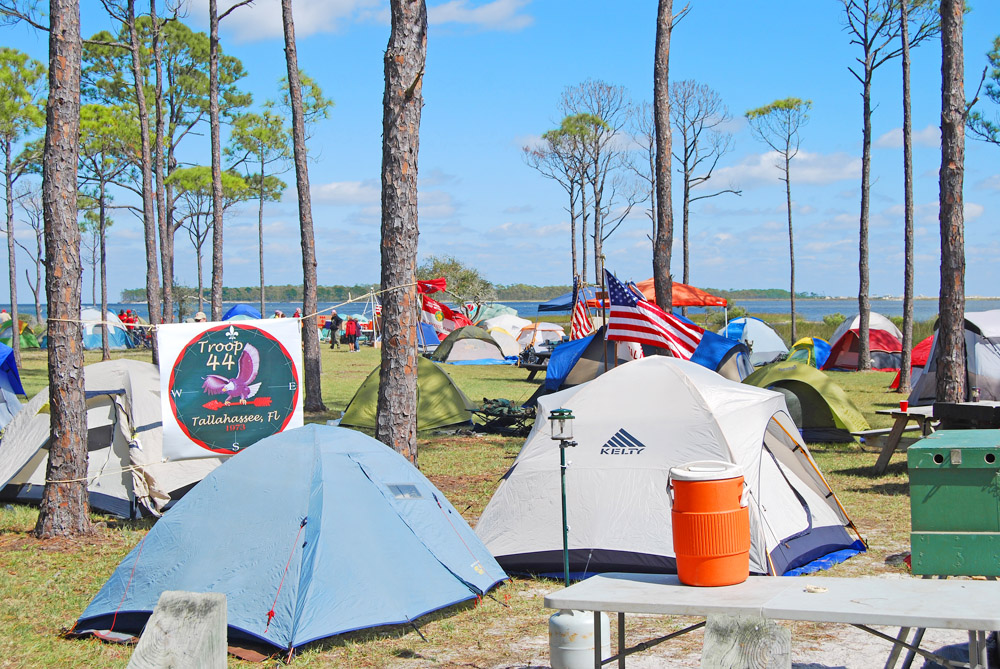 This campsite seemed to go for a mile. The shore line of the bay side snakes in and out. The view above is towards an inlet section between the two major groves of forest.
Fishing is plentiful!

We proceded to setup our equipment. ...this took a few hours or course.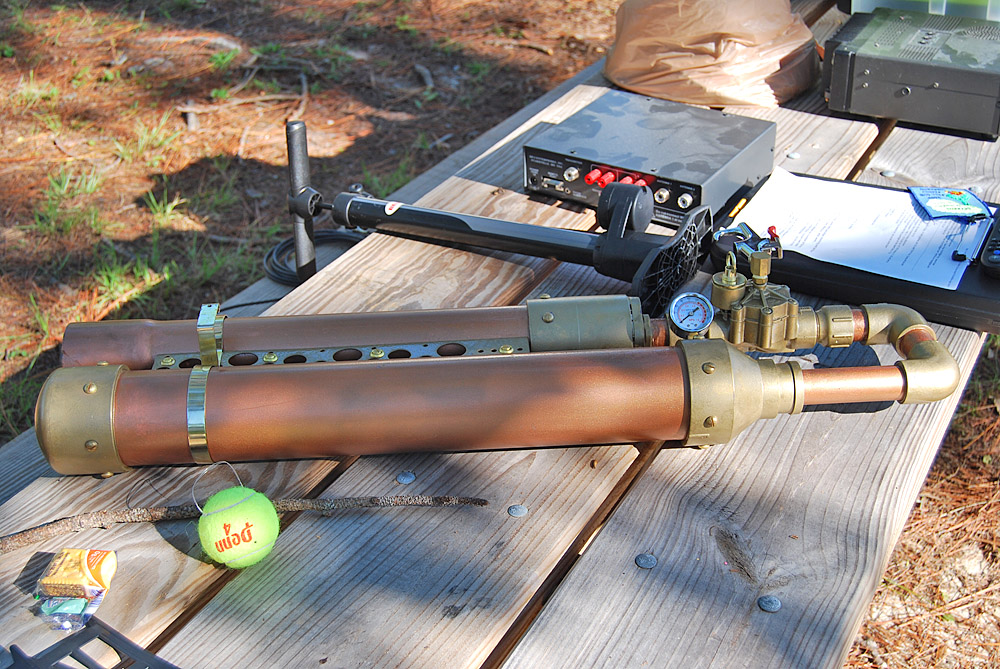 The pneumatic tennis ball launcher for hanging antennas.
It's made of pressure rated PVC and has a nice paint job that gives it that 1800's steam-boiler look. It has a distance range of 300-500'.

The launcher first overshot the tennis ball by a thousand feet or so to the other side of the parking lot... it wasn't a big tree. But we got three wire line antennas in the air. An 80 NVIS, my 40 and a 20.


Scouts helping James Ryder hoist a wire antenna.



Fishermen of the airwaves - Anglers of the ionosphere! "Give a man enough rope..." Give a ham enough rope and he'll hang a dipole.

Plus, with Paul's moving ham fortress, a new extending fiberglass 80m vertical, a D-STAR and D-RATS exhibition, SSTV and soldering how-to station, plus more. A lot of folks with large camper busses like that one, generally keep food and clothes underneath... nope, not this one. Just half of HRO's inventory.


Paul's camper storage reveals a wealth of emergency ham goodies.

The camp was on the bay side just a few hundred feet to the choppy salt water. And the camp was full of scouts earning their badges of all types. I think a few groups were represented there from the Suwanee River Area Council including #44.

We all pretty much ate sandwiches self provided for lunch and then held a class on ham radio for many of the interested scouts.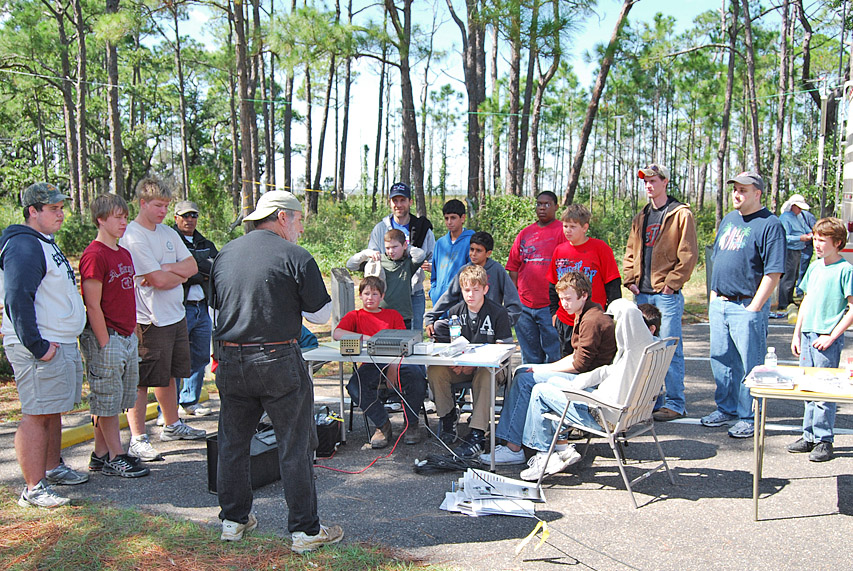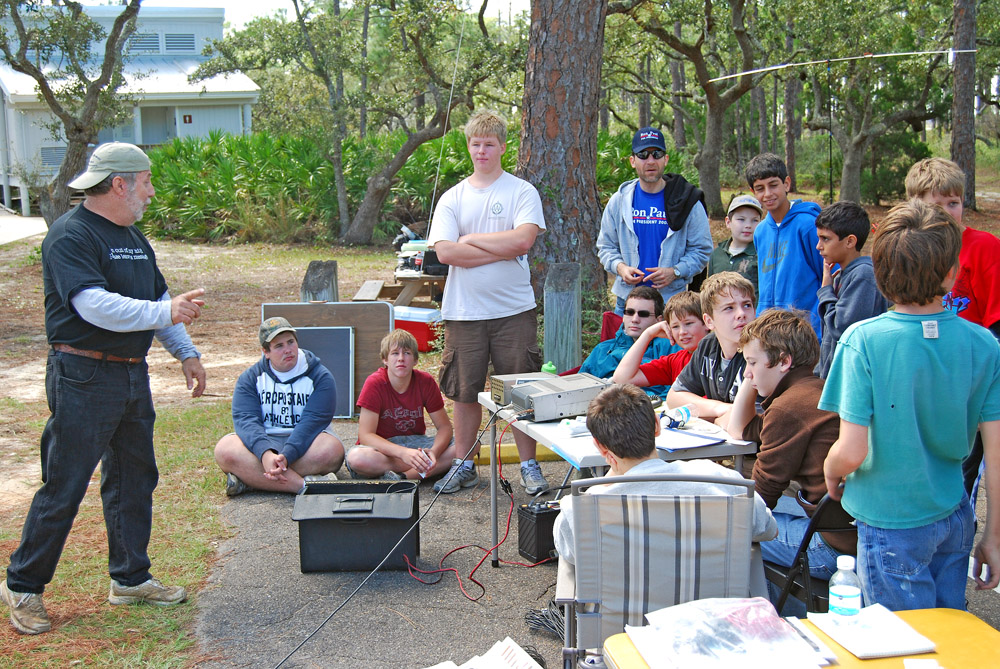 A class held for the Radio Merit Badge requirement.

The requirement for earning the Radio Merit Badge included education portions, familiarization with radio equipment, electronics symbols and either 10 minutes on the air with one contact or at least ten separate contacts. (All interchageable of course). The students learned about radios, transmitters and transmission modes, ham gear, antennas, emerging digital technologies, cell-phone network unreliability durring emergencies, and the benefits of licensing in the amateur radio service.

Not long after we were making contacts and allowing scouts to get on as "third party" to talk to other scouts like themselves accross the country and the world.
Propagation was good from Europe in the morning and excellent accross the eastern US durring the day. 80 was noisy but it worked out.


Look at this! These scouts just took over and started making contacts... DXCC and WAS awards for all!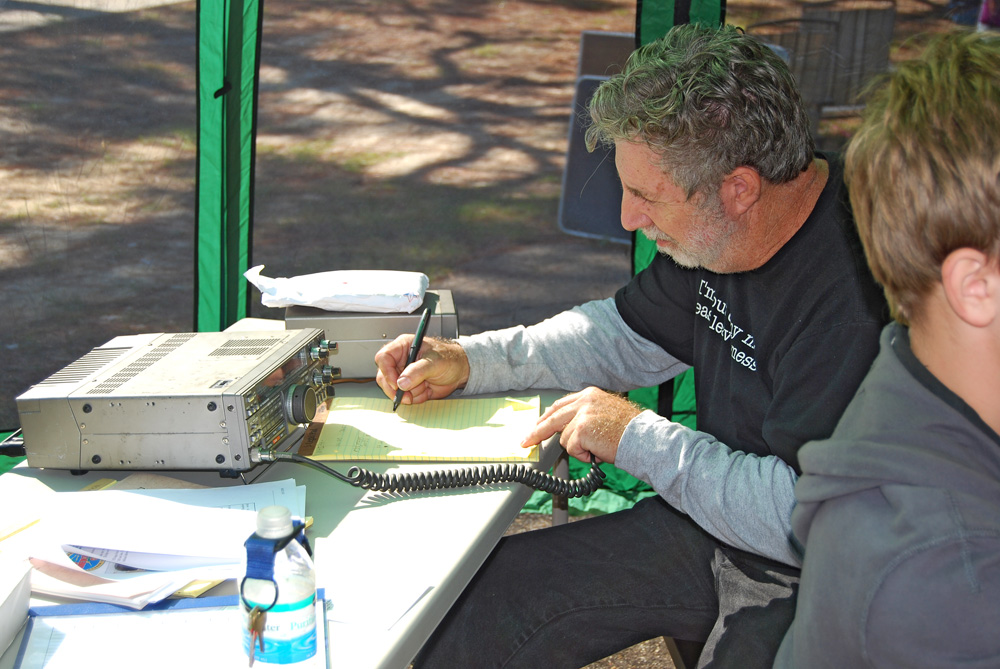 ...No doubt, James KG4YZM was nearby acting as Guide.

This was my time to test my more completed Go-Kit that has grown quite a bit in recent months. Including Anderson Power Pole connectors, RF adapters of all sorts and other goodies and gadgets, including the 60' of cheap RG-58. We found all of the things quite handy and needed. ....except for the sunscreen and chapstick which I payed the price for not digging out of my bag later. I learned a few things about what stuff I still need to pack and about the other things that can go wrong during an emergency exercise. Things you'd never think of. Such as a kid breaking the epoxy bond on the air trigger on the launcher valve by accident. A tarp perhaps, incase it rains. And even having the sense not to confuse the CW CAR gain with the MIC gain controls on my own home rig that I use nearly every day!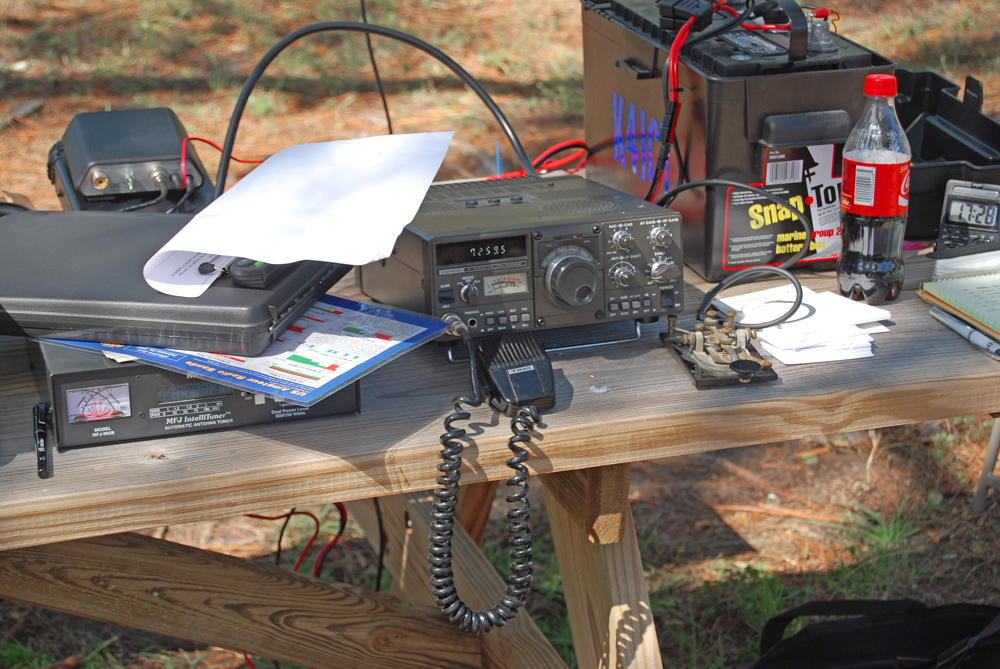 My station setup.

By the afternoon we had all the kinks worked out and were ready to get more scouts on the air.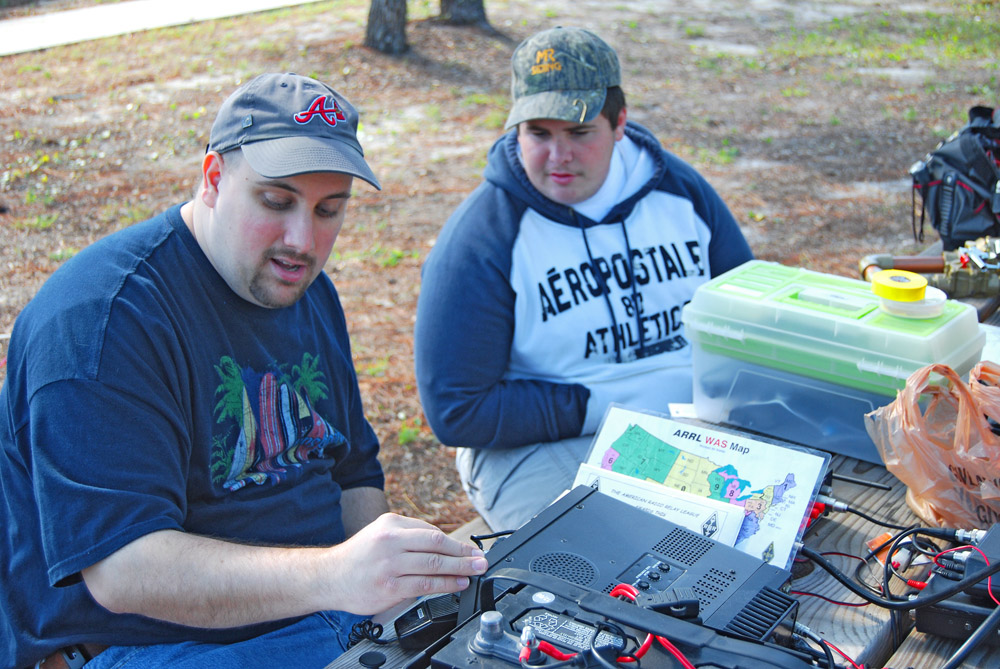 Me setting the transceiver for a QSO with another station.


Micah KJ4AZW (on the right) with his Yaesu FT-857D transceiver, Buddi-Pole in back.
He had an enjoyable time durring JOTA as well as many scouts. A few scouts including the ones show showed great interest in procuring their licenses and joining the fun.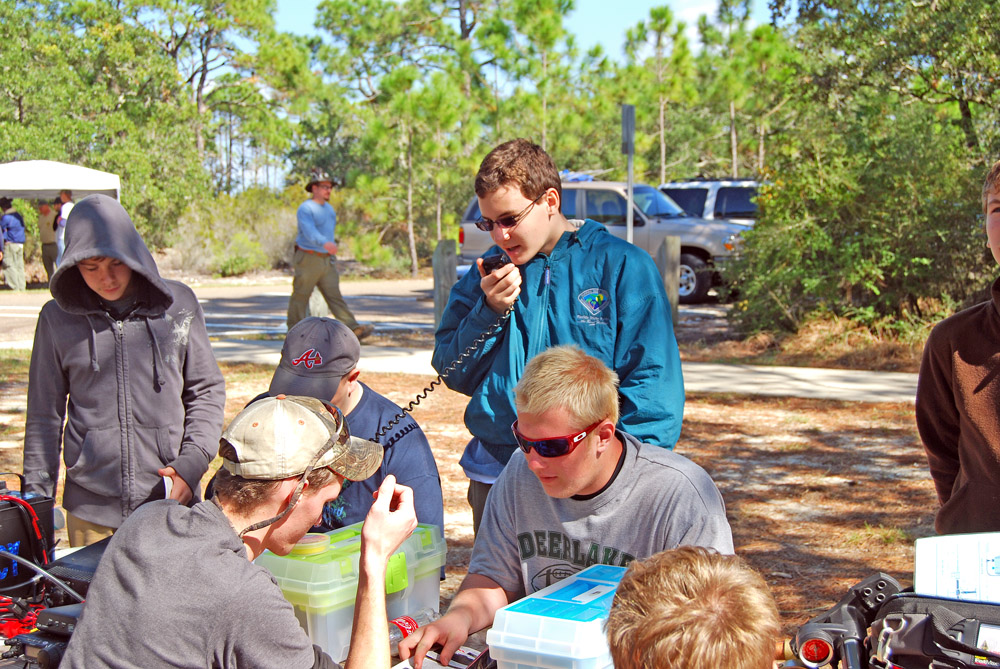 Most of the scout were somewhat mic-shy, but a little coxing turned them making QSO's.


Like an assembly line, the scouts enjoyed their time on the air and got their paperwork done for earning their Radio merit badges.

Micah KJ4AZW got to set up his Yaesu 857-D and latching mobile tuner. I had my Kenwood TS-130SE with the MFJ-993B tuner and we ran off of one 125Ah marine lead acid battery. As we tried to hook everything else up, I realized that I needed another splitter bus for the Power Poles. Alligator jumpers and other adapters carried standard in my go kit sure did save the day. Micah even set up his really nice Buddi-Pole and 2m Moxon antenna's.
The breeze was brisk and chilly, even in the noon-day sun.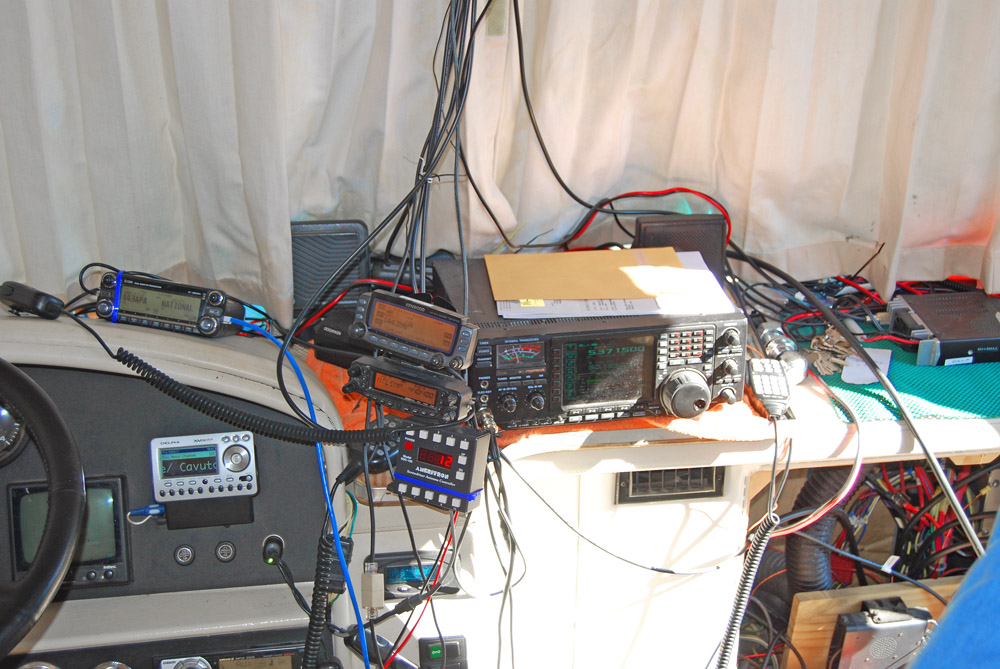 KJ4G's camper equipment setup. A lot of exposed and loose wiring for my taste, but you gotta admire the plentitude.



KJ4G's installation of his fiberglass 80m vertical. They put a lot of work into it, and installing a good ground system proved daunting.Along with the repositioning of other antennas.
The vertical will be a valued asset in emcom work, as well as a great all around DX antenna.

We had several small groups of scouts gravitate over and I raced to catch another scout group on the 40m band. I called CQ a few times to no avail. It was the middle of the day and propagation was good around 600 miles. My best contact was with Gary KD4TPO with a scout contingient at the Daniel Boone Scout Camp in North Carolina. He was a scout leader like myself and allowed our scouts and his to make QSO's with each other for more than two hours. The youth were asking simple but informative questions on the weatherm, favorite hobbies, scout ranking, favorite colors and many other simple queries.
It was snowing where they were and they were not to happy about being out in the cold. Found out they were high up in the mountains!
BUT HEY - We were on an island! - At a beach!
We filled out cards and certificated necessary to pass requirements for earning the Radio Badge. But mostly it was for fun. And there seemed to be fifty guys there named "Mike"!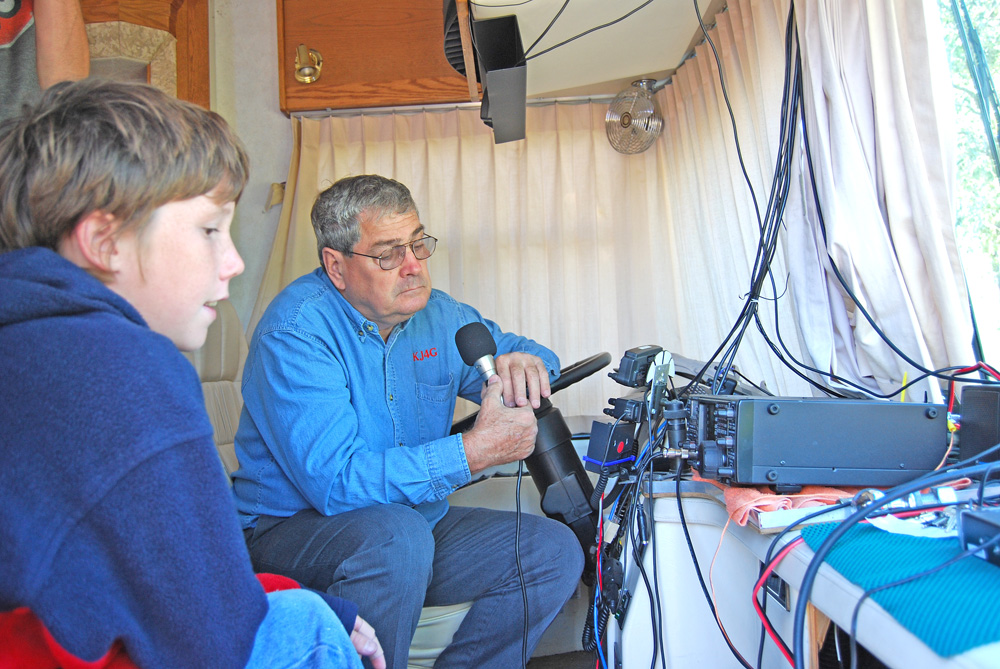 A scout eager to get on the air.


The scout listens for an opening...

The scout makes his first ham contact...

The scout is happy.... And so is Paul apparently!

I highly recommend being an "Elmer" to someone.
Mentoring creates a firm foundation in the Amateur hobby,
and changes lives for good.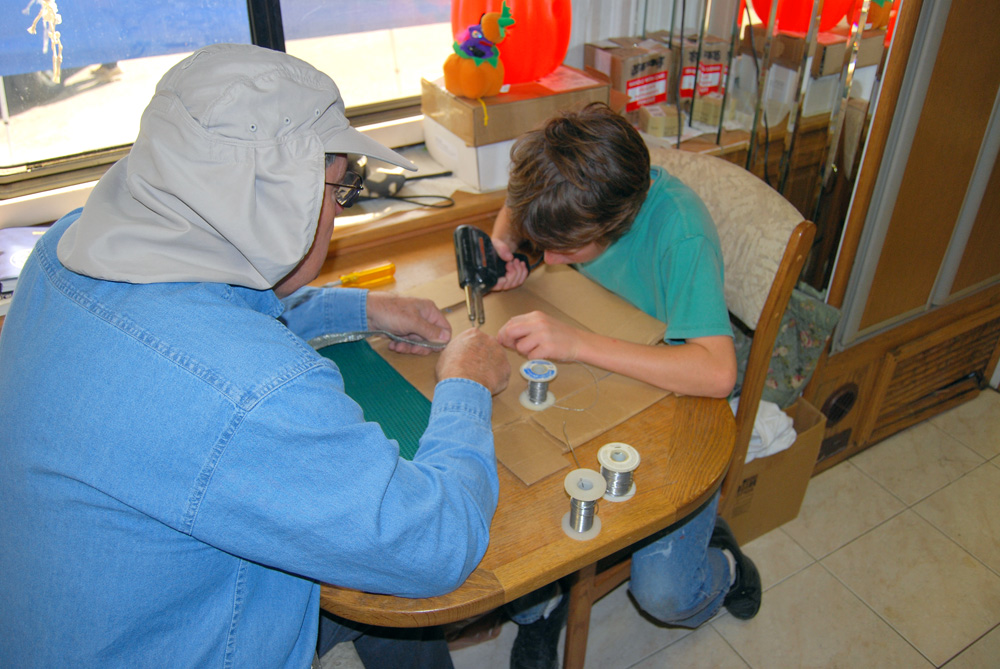 Paul, enlisting underaged factory workers... just kidding, the kid is teaching Paul how to properly solder.
Getting youngsters interested in electronics is just as possible today as it was in our youth.

Paul pulled out the works, displaying a large cross section of what ham radio has to offer. From instruction on soldering techniques, to digital demonstrations and antenna setups. And we even had a few boys express further interest in the hobby.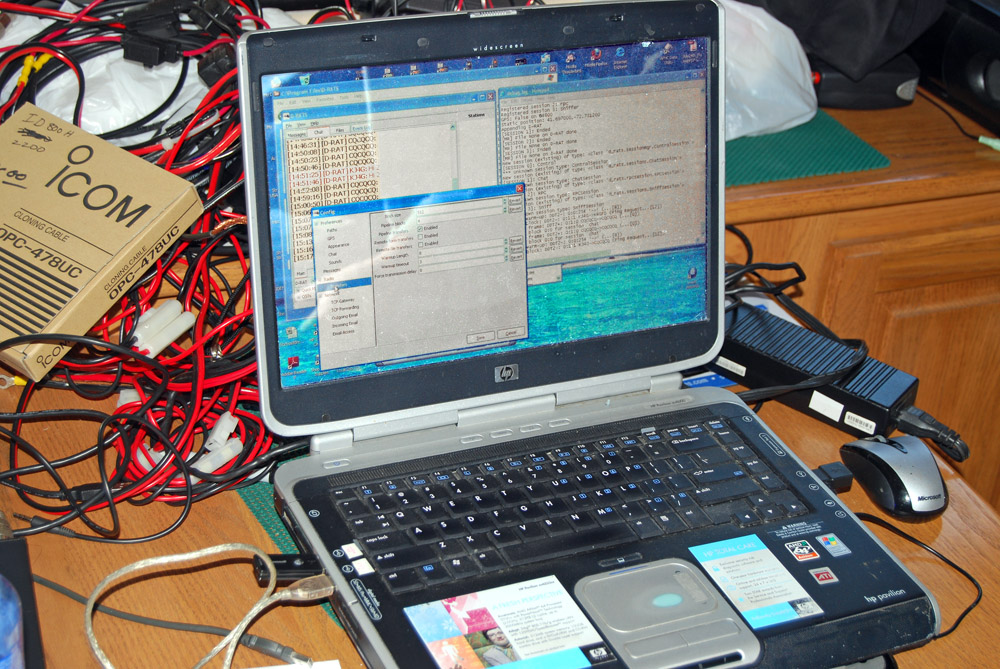 D-STAR digital ham radio with D-RATS software. The future is here and the scouts got to see it.

Later, as the sun started to set, we went through the process of tearing our end of it down. Winding up the antennas and finding room for all of my stuff PLUS Micah and his gear due to the fact that his ride got sick and left him there. But that was good, time is never wasted when you're in the company of other hams.
We got back tired and it was dark and cold again. Well worth it.

This year's JOTA was the best for me so far and I have a real appreciation, enthusiasm and love for the scouting program and for amateur radio.
I had a chance to talk to a lovely scout master lady (non-ham) that I first mistook for a child since the BFO was off. Found out she was my age!
I expressed that I was appreciative for the opportunity to "Magnify My Calling" with this scouting/ham event... The father of one of the scouts sitting beside me gave a sudden smile of confirmation to me. I worked JOTA the last two years, before I was called to be a scout leader. Since my beliefs dictate that the man up stairs does the calling, I find this a loving offering by God for my own good and joy. I'm not by far an expert at souting and have more to learn than most tender feet scouts, but I know that my enthusiasm must shine upon the youth for their sake.
I look foward to many more years of scouting and JOTA excursions.
- Mike K4ICY